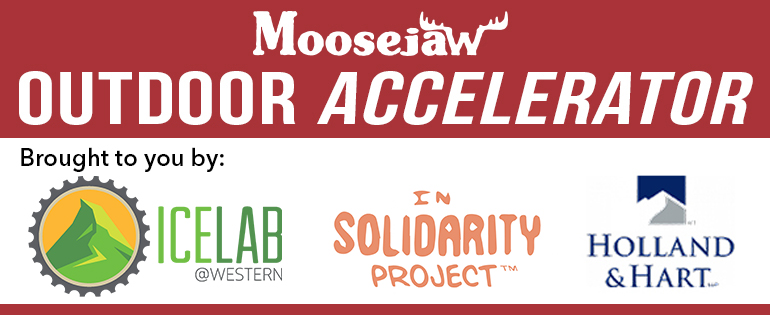 We Have Winners!
This is it. The third cohort of Moosejaw Outdoor Accelerator companies. Once we chose ten finalists from over 50 applicants, we asked customers and outdoor enthusiasts to vote for their favorite startups. A heart-felt thank you to all who applied and participated in voting!
Now, without further ado, here are this year's winners:
Rewards Program Terms and Conditions
Last updated January 1st, 2020
Opting-in to Moosejaw Rewards:
All users must accept these terms and conditions and create an account with Moosejaw to opt-in to the program and earn, accrue, retain and redeem Moosejaw Reward Dollars (MJ$). The program is FREE to join and membership is ongoing until or unless the user requests to be removed or is removed due to abuse of the program. Users can opt-in to the program while checking out on Moosejaw.com or at one of our stores or at any time within 30 days of purchase to accrue the MJ$ earned on that purchase. Once opted-in to the program, MJ$ will earn and accrue for redemption as described below until the MJ$ expire or the user leaves the program.
All information collected and used to facilitate the Moosejaw Rewards program is directly related to the program's ability to provide value to the customer. A customer opting-in to the Moosejaw Rewards program is a separate action from establishing a user profile as a result of making a purchase.
The program opt-in requirement was added on August 6th, 2019. Existing program members prior to that date must still formally opt-in and accept the terms and conditions to continue to retain, earn and redeem MJ$. Pre-existing program members that fail to opt-in prior to June 28, 2020 will be removed from the program, and any unused MJ$ will be voided. We really, really don't want to that to happen, so please opt-in or we'll feel terrible.
Leaving Moosejaw Rewards Program:
You may choose to leave the Moosejaw Rewards program at any time by logging in and clicking on the "Opt out Rewards Program" link within the My Account Summary page, Email, calling 877-MOOSEJAW (877-666-7352) or in-store with help from our employees. If you leave the rewards program, any unused MJ$ will be voided upon completion of your request.
Earning MJ$:
All items we sell are eligible with the exception of gift cards or other items specifically noted. Full-priced items earn 10% back while discounted items earn 2.5%. "Discounted items" includes items on sale or discounted via coupon code or use of MJ$. You do not earn MJ$ for shipping or tax charges, only from the item value. MJ$ expire two years after earning and are redeemed on a first-in, first out basis (in other words, we always use your oldest MJ$ that are closest to expiration).
Checking & Redeeming MJ$:
On Moosejaw.com, just sign-in on any page to see your available balance. Once signed in, you will see your available MJ$ and maximum that can be redeemed in the payment section of the checkout process. In stores, provide the email address attached to your account to learn your balance and apply to your purchase. We will also send you a monthly email that details your balance and other account activity. This is a transactional email that you will receive even if you are not subscribed to our marketing emails.
Bonus Rewards Promotions:
Every so often, we'll have special offers where you can earn bonus MJ$, like an additional 10%, 20% or 40% back. So if we are running a 50% back special offer, and you buy a regular-priced item for $100.00, you will receive MJ$10.00 in base points, and a bonus of MJ$40. These special offers may have a cap on how many bonus MJ$ you earn during the promotion, but you will always earn the base Reward Dollars. Make sure to check us out on our social channels for other ways to win some extra MJ$!
MJ$ on Gift Cards:
You don't get earn MJ$ when you buy a gift card, but you do get MJ$ when you spend a gift card. Sorry gift givers. You're welcome gift receivers.
Product Returns and MJ$:
If you return an item, we deduct the MJ$ earned on that item from your balance. If you used the MJ$ and your balance is less than deduction, then your refund is reduced by the difference.
Program Abuse:
The intent of the program is to provide our loyal customers with a way to buy great gear for less. Moosejaw reserves the right to remove any user from the program and zero out their MJ$ balance if Moosejaw determines that the user is abusing the program by buying for resale, attempting to game the program or any other reason at Moosejaw's sole discretion.
Are you Sure?
Our Rewards Program is completely FREE and easy to use.
By opting out, you forfeit all the Moosejaw Rewards Dollars your currently have in your account, which is basically throwing away free money. What would your grandmother say about that? If you're 100% sure, please click "OptOut" below.
Login to your Account
I have an account on Moosejaw.com
I've checked out as a Guest on Moosejaw.com
Why Create an Account?
Access all of the Moosejaw Reward Dollars you earn on every purchase.
Enjoy special offers available only to our account holders.
Be the first to see the latest styles, events and madness.
People will like you more.
Order Status
Order Tracking
Enter your order number and email address below.
Boring Rules and Info About the Free Cotopaxi Do Good Hat thing:
Must add a full price Cotopaxi item $99+ to qualify for the promotion.
Must add code DOGOOD at checkout for the promo to work.
Free hat SKU must be added to cart for the promotion to work (7491397 or 7491396).
Offer good while supplies last.
Exclusions may apply.
Does not apply to previous purchases.
Offer subject to change at any time.
FREE Shipping Offers:
Bike Shipping Info and Offers:
Get FREE 4-6 Day Ground Shipping on all bike accessory orders over $49.00.
Complete bikes will ship 4-6 Day for $4.95