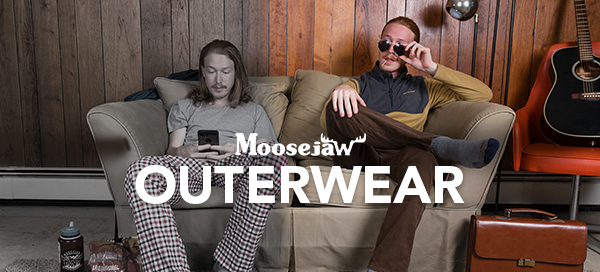 Moosejaw has been making the best reviewed outerwear out there for years now. Our customers are quick to tell us what they think, and that's how we've managed to perfect each one of these pieces. Do yourself a favor and see what all the fuss is about. And hey, maybe you'll get in on the fuss, too. (I'm not sure I even know what fuss means).
Lightweight + Fleece
Here's the stuff you need to stay warm and comfy in the shoulder seasons. Do people know what "shoulder seasons" are? I'm not even sure I do, I just overheard somebody say that once and I thought it sounded smart. Anyways, check out our customers' favorite fleece and lightweight outerwear.
Shop Lightweight + Fleece
Moosejaw Men's Woodbridge Stretch Fleece Hoody
Login to your Account
I have an account on Moosejaw.com
I've checked out as a Guest on Moosejaw.com
Why Create an Account?
Access all of the Moosejaw Reward Dollars you earn on every purchase.
Enjoy special offers available only to our account holders.
Be the first to see the latest styles, events and madness.
People will like you more.
Order Status
Order Tracking
Enter your order number and email address below.
Returning Customer
I am a returning Moosejaw customer
Fun info and rules about the Moosejaw 96 Hour Sale thing:
Extra 20% off is good on in-stock items and cannot be applied to prior purchases or combined with other promotions.
You must use code PIZZAROLLS for this to work.
Only works on select sale items.
Sale includes discontinued and prior season styles and colors from select brands.
Prices are while supplies last and are subject to change.
Ends September 24th, 2018.
Fun info and rules about the 20% Off One Full-Priced Climbing Item deal:
You must use code CLIMB20 to take the 20% off one full-priced item.
The deal is only on in stock items.
Deal cannot be applied to prior purchases or with other promotions.
Load bearing climbing equipment, like a harness or carabiner, is final sale by law so if you don't like your climbing stuff just hang it on your wall to impress your friends - sorry for being so mean about it.
The code is only good through September 30, 2018.
Some exclusions apply. Not all climbing brands are included.
Boring info and rules about the Moosejaw Climbing Sale thing:
Not all items are 25% off.
Does not apply to all climbing brands.
Cannot be applied to previous purchases.
Sale runs through September 30, 2018. Sorry, our lawyer is super crabby today.
FREE Shipping Offers:
Get FREE 2-Day Shipping on all orders over $49.00.
Get FREE 4-6 Day Shipping on all orders over $35.00 - or - orders with Moosejaw items over $12.00.