Barefoot running is all the rage right now, you guys, and Vibram FiveFingers are the shoes that took a concept and transformed it into a full blown fitness revolution. If you're ready to join in the barefoot fun, don't ruin everything by getting the wrong size and style of FiveFingers. Check out the videos below to learn how to measure your feet and select the proper size FiveFingers shoe, and what FiveFinger owners say about getting their feet ready for their new shoes and transitioning into barefoot fitness. Or you can scroll down to find lots of great info about the benefits of FiveFingers shoes, size and fit tips, fitness info and tips, and which FiveFingers are best for which activities.
| | |
| --- | --- |
| | |
| Learn how to properly measure your feet so you can find the perfect size of Vibram FiveFingers. Getting the right size is supes important when transitioning to FiveFingers you guys, so pay attention. Maybe take notes. | Check out what Vibram FiveFingers owners are saying about their shoes, how to best prepare your feet for wearing FiveFingers, and how to transition into barefoot fitness. One guy is wearing a Ghostbusters tee. |
---
Some Decent Questions & Topics (click to learn more)

Why Vibram FiveFingers? • What size FiveFingers should I wear? • FiveFingers for Running • FiveFingers for Fitness • FiveFingers for Trekking
FiveFingers for Water Sports • FiveFingers for Yoga & Pilates • FiveFingers for After Sport • FiveFingers for Traveling
---
Why Vibram FiveFingers?

A pair of Vibram FiveFingers shoes is going to change your life. Unlike any pair of footwear you've ever owned, FiveFingers are designed and crafted to bring you closer to the world around you, and offer tons of positive health benefits by using all of the body's natural biomechanics. You will literally move through daily activities the way nature intended.

Here are the top five reasons to own a pair of FiveFingers and go barefooting:
Wearing Vibram FiveFingers will stimulate and strengthen muscles in the feet and lower legs, improving general foot health and reducing the risk of injury. For reals.
FiveFingers improve range of motion in your ankles, feet and toes because the foot is no longer "cast" inside a shoe and can move more naturally.
When wearing a pair of Vibram FiveFingers, thousands of neurological receptors in the feet will send valuable information to the brain, improving balance and agility. Sounds pretty intense, so I'm taking their word for it.
FiveFingers lower the heel so your bodyweight becomes evenly distributed across the footbed, which promotes proper posture and spinal alignment.
FiveFingers allow the foot and body to move naturally, which just FEELS AWESOME, you guys.
---
What size FiveFingers should I wear?

Finding the right size FiveFingers for your feet is the most important thing ever if you have intentions of actually digging on the whole barefoot thing. In case you missed it, there is a video above that shows you how to measure your feet, and on each FiveFingers product page you can view a Size Guide to find a conversion chart for select shoe models. If possible, head to your nearest Moosejaw shop to try on a pair of FiveFingers and get compliments on your feet. And probably your hair.

If you're too lazy to scroll up and click on the video, here is what you're supposed to do to find your FiveFingers size:
Place a flat ruler on the ground, with the end against a wall.
Step on the ruler with your heel flush to the wall.
Measure from your heel to the longest toe on your foot. This may or may not be your big toe. I look away when someone has a toe longer than their big toe. Weird.
Repeat the measurement with your other foot.
Using the measurement of your LONGEST FOOT, refer to the size guide on a FiveFingers product page to determine your size.
Let's be honest, foot shapes and sizes can vary greatly, so while most FiveFingers are designed with fit adjustment features, they simply may not fit every foot type. If that includes your feet, we're so sorry about it. Here are a few red flags that may suggest FiveFingers are not meant for your feet.
If your foot length varies more than 1/6" it will be difficult to get a precise fit for both feet.
If your second toe is more than 1/6" longer than your big toe it may be difficult to get a precise fit.
---
FiveFingers for Running

Supes smart scientists have long supported the benefits of running around barefoot, or barefoot running for the cool kids, and there is loads of fun data and evidence that training without shoes on allows you to run faster and farther, and with fewer injuries.

Vibram FiveFinger shoes are the closest thing on planet Earth to being barefoot while still wearing shoes, and all but recreate the natural sensation of running and training in your bare feet. FiveFingers allow you to land on the forefoot, directly below your center of gravity, which results in optimum balance, increased stability, less impact and greater propulsion. Running in FiveFingers also stimulates and strengthens muscles in the feet and lower legs, and delivers sensory feedback that helps improve agility and equilibrium, and allows immediate form correction.

There tends to be a lot of crap on the ground, so while you're getting all the benefits of barefoot running, all FiveFingers running shoes feature a patented Vibram sole that will help protect your feet and toes from the elements and any obstacles in your path.
---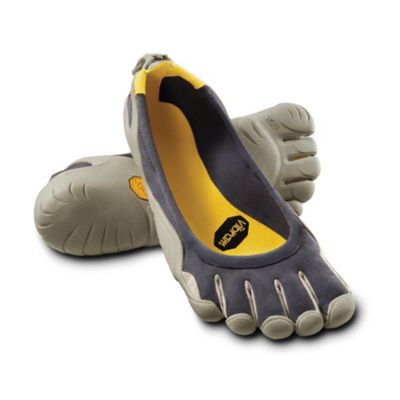 FiveFingers for Fitness

Feet and toes benefit from exercise just like every other part of the body, and the unique design of FiveFingers shoes will for sure help you get the most out of your workout and the rest of your body. So whether you're into insane CrossFit workouts, weight lifting, cardio classes, or an all-around gym rat, a pair of FiveFingers will help you build greater flexibility and stability in your feet and legs, and an overall fitness level from the ground up. Literally.

FiveFinger shoes feature five individual slots for toes that gently separate each toe and help stabilize your body, provide awesome balance, and increase muscle stimulation to the feet, ankles and lower legs. The super-thin Vibram sole offers unbeatable grip to better generate torque during power moves, and enhances feedback and lowers your center of gravity, which improves overall agility and balance. FiveFingers put feet on a flat plane, which eliminates the downward angle caused by the heel lift in traditional fitness footwear, so your posture and alignment will improve, and your joints and back will be in an ideal position for you to get the most out of lifting and fitness routines.

FiveFingers naturally allow the entire body to get engaged in a workout from the ground up so you'll be able to train at a higher level. Each and every one of your workouts will benefit from the increased balance, performance, and an overall better sense of control that wearing FiveFingers provides during fitness and strength conditioning sessions.
---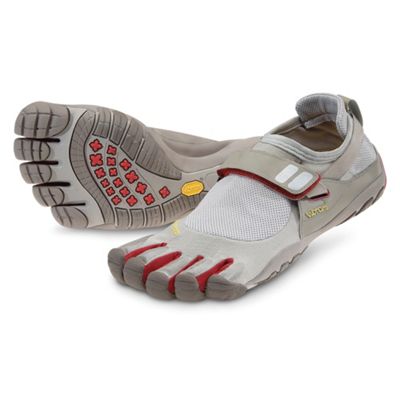 FiveFingers for Trekking

Vibram FiveFingers help you experience trails like never before by allowing feet to move more naturally and feel the earth beneath your feet no matter what the terrain. By lowering the heel while you hike and trek, bodyweight becomes evenly distributed across the footbed, which promotes proper spinal alignment. Trekking in a pair of FiveFingers will also strengthen lower legs and feet, and promote better sensory feedback from the environment all around.

Whether you're on trails or way off the boring beaten paths, you are for sure going to encounter an array of terrains, and that is why Vibram built their FiveFingers to provide awesome grip on a variety of surfaces and terrain. Some FiveFinger models feature a lightly cleated sole for even better traction on rough, rigorous and demanding hikes. So if you're hitting the trails, rocks, woods, or backcountry, a pair of Vibram FiveFingers will allow you to experience treks like no other footwear has before.
---
FiveFingers for Water Sports

Even the most basic design elements of Vibram FiveFingers create increased traction and grip for all 10 toes, making them awesome footwear for an array or water sports and activities. Kayakers, surfers, stand up paddle boarders, sailors, and fishermen who have made the switch to FiveFingers did so because of the incredible grip, performance and control they provide over traditional water sports footwear.

While they were originally conceived and designed for outdoor activities, the FiveFingers Flow, KSO and Sprint are the best models for water sport activities, and here's why. The Sprint and KSO both feature adjustable hook-and-loop closure straps for a more comfortable and secure fit that is ideal for more aggressive activities in water and wet conditions. The Flow has a 2mm neoprene upper that acts almost like a wetsuit and helps keep feet warm in cold, fast-moving water such as rivers and streams. Regardless of the model, FiveFingers offer the incredible gripping performance you would expect from a Vibram sole, and combined with freedom of barefoot movement for feet and all 10 toes you have footwear that allows you to tackle uneven riverbeds, wet rocks, and other slippery surfaces with confidence.
---
FiveFingers for Yoga & Pilates

The Vibram FiveFinger shoes that are ideal for yoga and Pilates feature a thin Vibram sole that allows for awesome flexibility and range of motion, and also keep bare feet protected. A pair of FiveFingers is a clean and hygienic alternative to going legit barefoot in a yoga studio, and the basic design of FiveFinger shoes provides the same sensory feedback as being barefoot, which is crucial for balance and agility. Vibram soles provide grip and traction that allow you to practice yoga and Pilates away from home, even if you don't have your mat. Whether you're traveling, camping or hiking, if you've got your FiveFingers you can practice yoga and Pilates on an array of surfaces and terrain without having to pack a bulky yoga mat.

Even when you're not doing yoga or Pilates your FiveFingers continue to promote a more healthy and natural way of walking and moving that ultimately leads to stronger feet, toes, lower legs, and body overall. By keeping feet on a flat plane, FiveFingers help align your posture to minimize stress on the entire body, and the small muscles in the feet and lower leg are stimulated, which enhances the body's awareness and helps arouse the senses. A body with little stress, and more strength and stimulation is free to move throughout the day feeling more connected and confident. For reals.
---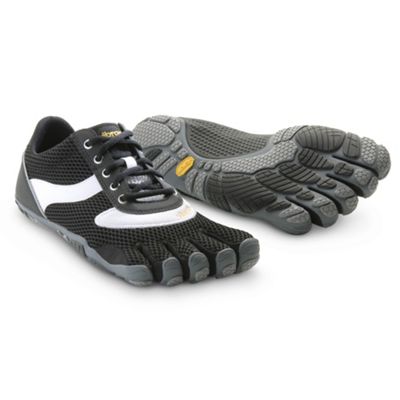 FiveFingers for After Sport

Feet are often forgotten and neglected when we wind down after a day of hard work or activity, but if you keep a pair of FiveFingers handy you can include your feet in the relaxtion and recovery process. A pair of FiveFingers are a healthy alternative to traditional footwear that keep feet casted and constrained, and offer awesome comfort and protection while maintaining the benefits of going barefoot. There are a number of physiological and sensory benefits associated with being barefoot, and by putting feet on a flat plane, FiveFingers help align your posture to minimize the stress on a body eager to relax. Any of the FiveFinger shoes listed below also allow feet to move more freely and naturally that traditional footwear, and allow you to easily stretch and spread your toes when cooling down, stretching, and unwinding.

Put simply, wearing FiveFingers will help your feet, toes, and lower legs relax and recover better along with the rest of your body. No matter what the activity, including a pair of FiveFingers in your recovery routine will help feet feel stronger and healthier, and keep feet protected while maintaining the benefits of going barefoot. So whether you just finished up a killer day on the trails, sweaty CrossFit class at the gym, or routes on your favorite wall, relax at the end of the day with a pair of FiveFingers and your feet will be forever grateful.
---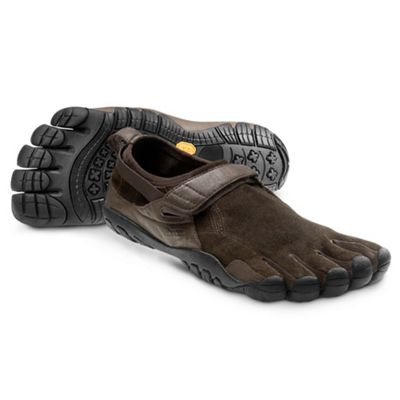 FiveFingers for Traveling

Nobody likes traveling more than I do, but boy is it gross, you guys. From airports to rental cars, subways to bus stops, it seems everywhere you have to go when traveling is somewhere you dread touching anything. Toss in the fact that you're stuck wearing heavy, uncomfortable shoes all day, and the excitement of a travel experience takes a hit. A pair of Vibram FiveFingers barefoot shoes are awesome for everyone who believes the whole point of traveling is to truly embrace the experience, and connect with the new people, places, and natural settings all around. FiveFingers are a lightweight, durable, comfortable, and hygienic alternative to traditional footwear, and will keep your feet feeling healthy and strong during your longest travel days.

By maintaining the barefoot sensation, Vibram FiveFingers allow the body's sensory system to better absorb and react to any surface beneath your feet, which helps improve agility and equilibrium as you move through a travel day. FiveFinger barefoot shoes lower the heel into a natural barefoot position that evenly distributes bodyweight across the footbed, which helps align the spine and create a healthier posture. Instead of trudging through airports, you'll soon discover a smoother, more fluid and natural walking motion, and stronger, healthier legs and feet as muscles and joints adapt to the barefoot sensation FiveFinger shoes offer.

Excess weight, no matter how it's created, is the absolute worst when traveling. On average, a pair of Vibram FiveFingers weighs in around six ounces to help lighten the load on your feet, and their minimalist design allows for pretty simple packing in any type of luggage, or even a mesh water bottle pocket on a backpack. Adding a pair of FiveFingers barefoot shoes to your travel routine will allow feet to move more freely and naturally throughout the day, and ultimately result in healthier legs and feet that recover quickly at the end of a long day. No matter when your wanderlust wants to take you, take FiveFingers for a spin and they are pretty much assured to become your go-to footwear for travel and daily wear. No joke.
---
Love the madness,
Moosejaw