La Sportiva | La Sportive Trango | La Sportiva Hiking | La Sportiva GTX
All La Sportiva
New La Sportiva

La Sportiva Shoes
La Sportiva Hiking Shoes
La Sportiva Trail Running Shoes

La Sportiva Climbing Shoes

La Sportiva Boots
La Sportiva Hiking Boots
La Sportiva Light Hiking Boots
La Sportiva Mountaineering Boots

Men's La Sportiva
Women's La Sportiva
Kids' La Sportiva

Top Rated La Sportiva Shoes
La Sportiva Muira
La Sportiva Mythos
La Sportiva Katana
La Sportiva Solution

La Sportiva Sale
What's New
We just added this stuff like 5 seconds ago. That may not be true but it sure sounds good.
$124.95
Free Shipping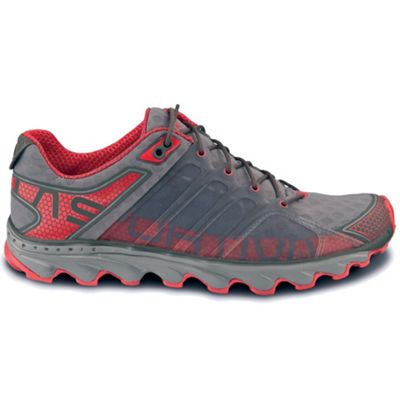 $119.95
Free Shipping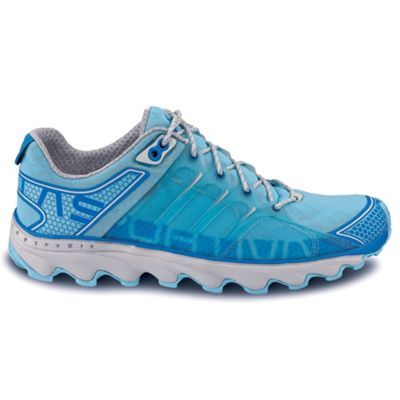 $119.95
Free Shipping
$179.95
Free Shipping
The Best Stuff
We're pretty sure this is the best stuff. Or at least it is decent stuff. Sorry for saying stuff.
$169.95
Free Shipping
$169.95
Free Shipping
$304.95
Free Shipping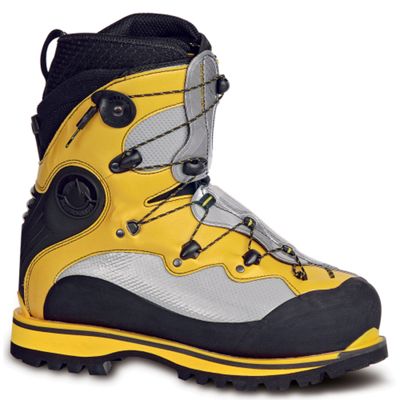 $749.95
Free Shipping
Custy
Reviews
These are reviews from real Moosejaw Customer. I have never eaten a radish.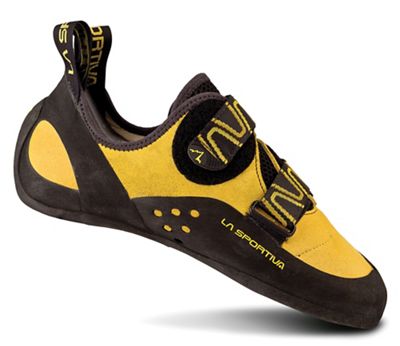 They edge ok but not great, they have not worn very well, they are only slightly uncomfortable, they are reasonably sticky. Overall they are just ok. I have since upgraded to…
- Andrew, 03/12/13
Kansas
I'm a fan of the 5.10 Anasazi great edging power; the gym clearing smell of the shoes, I'm not so psyched on. The Katanas are a lot like the Anasazis: flat last, sensitive ye…
- joseph, 12/20/11
New Castle, CO
READ ALL 57 REVIEWS >>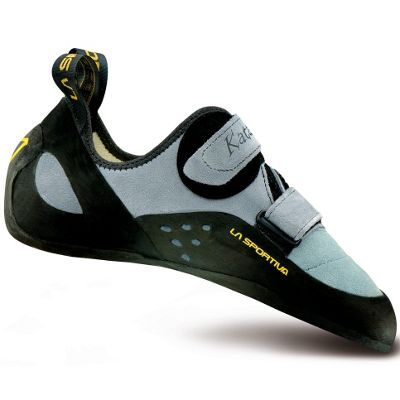 Perfect for all type of climbing, either you´re a begginer or an experienced climber. Super comfty and easy to put on. The velcro straps let you adjust them as tight as you w…
- Cristina, 07/01/12
Mexico
I'm a guy. I bought these because the women's model has lower volume on the inside, so it's better for narrower feet. These are also much lighter than a lot of other shoes on…
- JONATHAN, 05/26/09
Yosemite
READ ALL 55 REVIEWS >>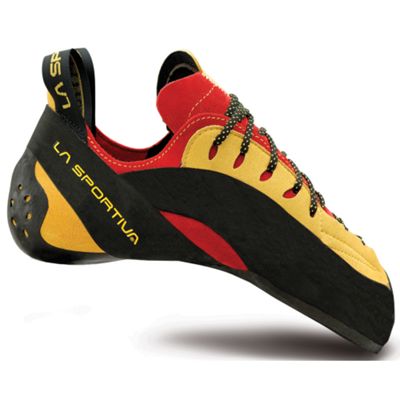 The feel in these shoes are amazing. I had a pair of Muira VSs for 2 seasons and loved them and wanted something a little more sensitive. These fit the bill! Still love my Mui…
- Tony, 07/13/11

If you have a wide foot like I do then I would suggest trying these on before buying. They are lace-ups so that helps but my feet were still just bulging out. I'm going to s…
- YUN JUNG, 10/22/09

READ ALL 52 REVIEWS >>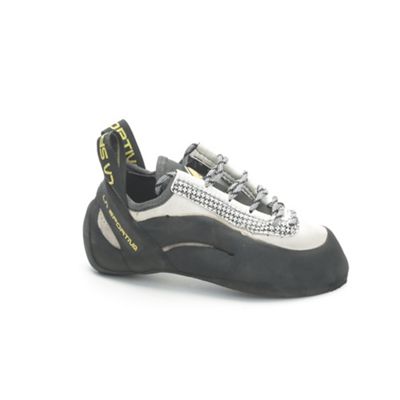 I moved from the Evolv Elektra, my first shoe, to these about a year ago. Definitely a wise choice for someone who is getting serious about their climbing. While they were muc…
- Lillian, 08/21/11
Providence
I admit, I was lost and searching for solace when I came across these shoes. I'd been looking for a kick a** climbing shoe capable of shredding face climbs with the best of th…
- Marc, 06/02/10
Mountain View, CA
READ ALL 46 REVIEWS >>
About La Sportiva
There are about a thousand and one reasons why I'm supes stoked to tell you all about La Sportiva footwear. Seriously guys, this company is the real deal. La Sportiva has been in the biz of making some of the best technical footwear around for 80 years. They've come up with some really innovative footwear over there in Italy. Yes, Italy. La Sportiva owns and operates its own state-of-the-art factory in a small mountain town called Ziano di Fiemme. Everytime I type Ziano di Fiemme, I like to say it out loud in an Italian accent. People around me are surely getting annoyed…petty details. Anyway, this company is family owned with about 150 people producing handmade footwear. Basically, La Sportiva is all about tradition and relying on the eight decades of experience handed down throughout generations. I feel all warm and fuzzy just telling you about these folks.

If I'm right, and I like to think that I am, you're feeling pretty warm and fuzzy too. I don't want to burst your bubble or anything, but I must inform you that La Sportiva's footwear is serious biz. They make a ton of hardcore boots for some seriously hardcore conditions. From rubber boots, to hunting boots, to insulated and waterproof boots, La Sportiva makes some of the best footwear on the planet. This company is putting Italy on the map in terms of footwear. I think it's time I tell pasta to hand over the reign. Or you can. It's totes cool either way.

Now is where I tell you all about a few of the super boots from La Sportiva. First, if affordability is the name of the game, there's the Mojo boot. But if you're looking to stay light on your feet, the Spantik boot is what you're looking for. Now, if you really want to tackle the extremist of the extreme conditions, the Makalu mountaineering boot is what you're looking for. La Sportive makes footwear for mountaineering, rock climbing, hiking, mountain running….and I could go on. But long story short, I'll desist. I could if I wanted to though, and don't you forget it.

If you decide to purchase form La Sportiva, as you should, rest assured that you're saving the universe. I'm being totes serious. The company is committed like crazy to producing footwear that makes the world a better place. If there's a way to reduce the impact of their biz on the environment and make a positive change in the world, they find it. La Sportiva's moral compass points due north, which is more than I can say for myself. I hope my mom doesn't read this. She's more into knitting though, so I think I'm golden.