Sleeping Bags, Tents, Backpacking Gear + Camping Gear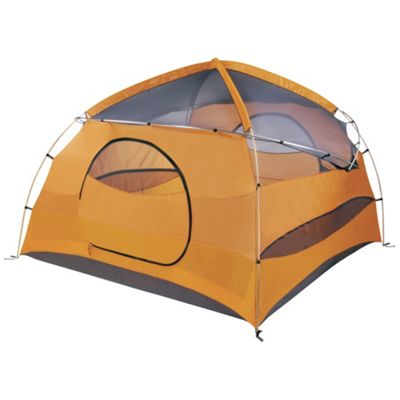 Whether you're doing the fast and light overnight backpacking kind of camping or the car camping, you need the gear to make your trip comfortable. Check out gear for making delish meals on rustic camping trips, including
water filters
,
backpacking stoves
,
dishes and utensils
, plus
camping cookware
like kettles, pots, and pans. After you've eaten your wilderness feast, sleep tight with a tent, sleeping bag, and sleeping pad from top names like The North Face, Mountain Hardwear, and Marmot. My mom used to bake pies when we went camping. In the fire. I'm not kidding, just ask her. Fire pie is the best pie.
Light weight gear is essential when you're backpacking, because you don't want to load more weight than you can comfortably carry in your pack. Whether you're just going for an overnight hike, or going for a week-long backpacking adventure, you'll appreciate compressible
sleeping bags
,
trekking poles
,
packs
, and
bivvy sacks
. Technical gear to keep you safe is essential, too. Check out
adventure watches
,
sunglasses
, and
head lamps
to light the way down dark trails. Get the best hiking gear from top names like Mountain Hardwear, MSR, Kelty, and Sierra Designs.
Casual day hikers and backcountry trekkers agree that comfortable, supportive footwear is some of the most important gear on any hike. Check out
hiking boots
to keep you stable on the trail without slowing you down.
Light hiking boots
are great for fast moving trips, but still provide the ankle and foot support you need to stay on the trail. Find
men's hiking boots
and
women's hiking boots
from top names like Scarpa and Asolo. Go even lighter with supportive
light hiking shoes
. Shoes aren't the end of the story, though. Good, moisture wicking
hiking socks
are key to foot health and comfort. Check out hiking socks from Smartwool and Icebreaker.